EWG's Dirty Dozen fruits and vegetables
Start the year off with healthier choices –one way is to avoid the Dirty Dozen fruits and vegetables.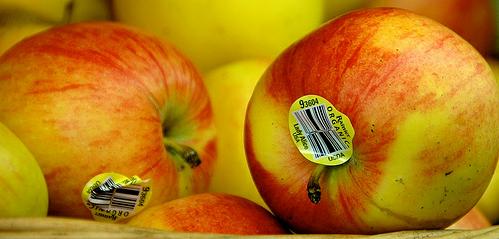 The Environmental Working Group (EWG) is the nation's most effective environmental health research and advocacy organization, and they provide several consumer guides, including those for fruits and vegetables with highest and least exposure to pesticides, such as the Dirty Dozen and Clean 15.
Highlights of EWG's 2013 Shoppers Guide to Pesticides in Produce:
CORN – almost always GMO (used to make tortillas, chips, corn syrup, animal feed)
includes a PLUS category for those crops that did not meet the traditional Dirty Dozen criteria, but were found to be contaminated with pesticides that were exceptionally toxic to the nervous system:
SUMMER SQUASH (domestically grown)

LEAFY GREENS – KALE and COLLARDS were found to show residues of a highly toxic pesticide
common GMO crops found in grocery stores (buy organic instead):
ZUCCHINI and SWEET CORN

HAWAIIAN PAPAPYA 

 
On a Youtube interview, the EWG asked Dr. Weil, renowned medical expert on natural health and wellness, about their Shoppers Guide to Pesticides, and he points out some of the dangers of chemicals in food:
are toxic to the nervous system

can disrupt endocrine function

may increase risk of cancer and other chronic diseases
Can't afford (or do not have access to) organic foods? Then stick to EWG's CLEAN 15 list to minimize your exposure
APPLES top the Dirty Dozen list for 2013, followed by: CELERY, CHERRY TOMATOES, CUCUMBERS, GRAPES, HOT PEPPERS, NECTARINES (imported), PEACHES, POTATOES, SPINACH, STRAWBERRIES, SWEET BELL PEPPERS
Consumer guides can be found at EWG.org
Currently, US Law does not require or regulate labeling of GMO products, therefore, stay informed with EWG. In many cases, fruits and vegetables found at your grocery store may be labeled with PLU (price look-up) codes, which would indicate how they were grown. The 4 digit food description code may have a preceding 5th digit:  8 = GMO (genetically modified) and 9 = Organically grown. An item with a PLU code of only 4 digits most likely indicates it was conventionally grown (probably contains pesticides), however because adding the 5th digit is not regulated or consistently used by suppliers or retailers, it is not considered a reliable indicator.  Be safe and choose products specifically labeled "organic" or GMO-free by reputable certifying organizations.
For more information on PLU codes, check the PMA (Produce Marketing Association) site at plucodes.com